Our made-to-measure blinds are designed to fit perfectly into your home, and our precision is what makes our vertical blinds easy to hang. Here, we've got all the information you'll need to hang your new vertical blinds perfectly
WHAT YOU NEED
• Your blind, carefully unpacked
• Screwdriver
• Pencil
• Appropriate screws and fittings
• A drill, though not needed in all cases
• A metal tape measure
• A sturdy step-ladder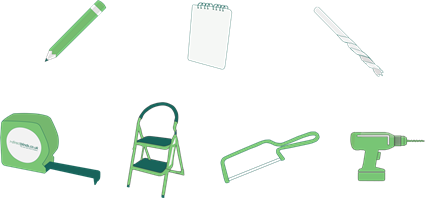 TOP OR FACE FIX?
You can chose to fix vertical blinds on the ceiling of lintel (top fix), or onto the wall or window frame (face fix). Whichever fitting you decide upon, make sure you have the appropriate fittings for the surface. We supply wood screws with your blind, but if you're fixing the brackets onto anything else such as cement, brick or plaster, you'll need to make sure you pick up the right fittings from your local DIY store.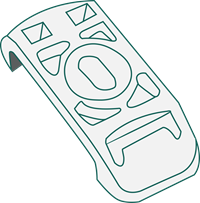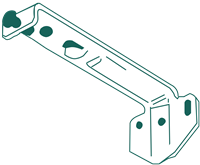 WHAT TO DO
Step one: Install the brackets
For top fix, affix the brackets to the ceiling or lintel with holes drilled on a line at least 75mm from the wall or window frame for blinds with 127mm louvres or 55mm for blinds with 89mm louvres. The end brackets should be about 40mm from the ends of the track, and any remaining brackets should be spaced evenly between these two brackets.
For face-fixing brackets, fix them on the wall or window as closely as possible to the ceiling or lintel with the same spacing as recommended for top-fixing brackets, just in the paragraph above.
Step two: Fitting the track
Once your brackets are installed, you can fit the track onto them. Keeping the controls to the same side that you ordered them to be on, locate the small lip projecting from the brackets and fit the track's groove onto it. Push it upwards and into the brackets. If you have spring clip brackets, your work in this section is done! If you've got retraining screw brackets, screw these in where needed, but not too tight – else you will damage the track.
Step three: Fitting the louvres
Turn the hooks on the headrail so that the available slots are at 90° to the track, and hang the louvres, keeping all the seams facing the same way. If supplied by direct Blinds, your vertical blind will arrive with a louvre weight in each pocket, with the chain link supplied separately. A blind with 20 louvres will have 20 louvre weights, and 40 links of chain (for the front and back corners of the louvre).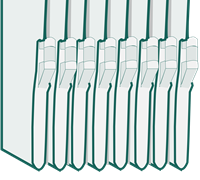 To attach the link chain to each weight, slide over the top of the weight attachment, then cut the chain and repeat for the other side – but remember to ensure all weights are attached before cutting the chain!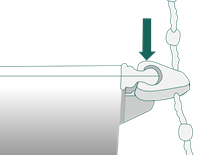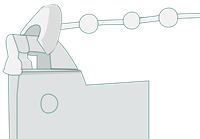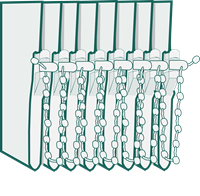 Note
Don't forget to install the supplied safety features, namely a chain or cord safety device to prevent the risk of strangulation.

QUESTIONS?
If you have questions about your fitting , why not give us a call and speak to one of our friendly Customer Services Advisors on 0800 046 1502
Request A Call Back